Top of the News— TUES 23 April 2019
Kamala Harris pledges executive order on gun control if Congress doesn't act in her first 100 days—FOX NEWS
Beyond Politics
By A. Lidden Pate
Our political debates are going nowhere and for a bad reason:  they're not political, at least when viewed through a hard look at one side of the equation.  They've morphed into divisive religious debates.
How has that happened?  Here's how:
Religion has to do with what we believe to be most important.  Where our interests and our desires center, that is where we place our greatest and most intense loyalties, that is the focal point of our religion.   For Christians, this center is the One God known in Jesus Christ.  Other religions have their own "center" or "ultimate."
On the other hand. "Politics" (singular) is, or certainly should be, about governing, that is, about  how to live by the established legal rules of the nation or country where one lives.  Thus, in the United States, our "politics" has historically had to do with defining these rules and modifying them as needed in order to guarantee law and order, "maintain the peace and promote the general welfare."
Also, historically, for decades, two major parties, the Democratic and the Republican, have dominated our politics as other "parties" and individuals have also been allowed to present their differing views.
Constitutionally in the United State, politics in any form is not a religion, and its promotion as such is prohibited.
But in 2019, "politics" has become a "religion" for the followers of President  Donald J. Trump.  For it is in him, In Trump, these followers  have pledged their allegiances, totally and  without question.
And among these Trumpites there is a quite zealous band of followers who actually believe their faith in Trump has arisen out of their conservative, fundamentalist- leaning  brand of Christianity, misnamed "evangelical," which in the New Testament references the "Good News" proclamation of faith in Jesus Christ..
So it is currently the case in American politics that Trumpism has become a religion in which reason, logic and the search for Truth itself have been relegated to secondary status, if held to at all, in the idolizing of the Idol.  Consequently,  Trumpites have made themselves immune to correction while succumbing to a disheartening  deafness and cold-hearted blindness with respect to well-reasoned and well-documented facts in political discussion.
No wonder Trumpites  oppose the consensus of the world's best scientists regarding the reality and danger of Climate Change.  No wonder that, as individuals, Trumpites  have tricked themselves into believing that lying and, yes, downright criminal actions must be accepted in their leader and his closest cohorts.
All that matters to Trumpites  is that their Idol be glorified at all costs, which has led me to a personal conclusion:
What the Trumpites of 2019 most need is a real encounter with the One Jesus of Nazareth.  Then, hopefully, they just might be reborn as politicians of the first order..
Hawaii's Waikiki Beach could soon be underwater because of climate change. Lawmakers are fighting to preserve it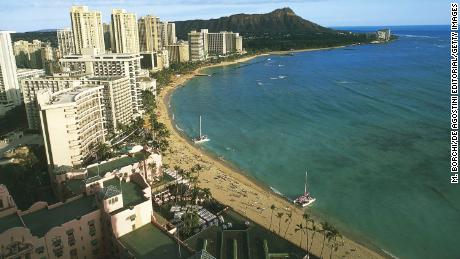 Kamala Harris joins Elizabeth Warren's call for impeachment—FOX NEWS

Immigration detention centers nearly empty as Trump claims border crisis—THE GUARDIAN
US detention centers that hold migrant parents and children have been nearly empty for months, despite Donald Trump's administration repeatedly warning that the US-Mexico border is at a "breaking point" because of the surge in Central American families fleeing poverty and violence.
There were nearly 2,000 empty beds in two detention centers last week, with a facility in Dilley, Texas, at 26% capacity and a facility in Berks county, Pennsylvania, at 19% capacity. On 1 April, the third family shelter was temporarily changed into a facility for adult women only.
This, combined with reports of aid agencies at the border overwhelmed by the food, shelter and medicine needs of migrants, has advocates warning that the government could be manufacturing a crisis to justify its hardline immigration policies.